Trash Pack toy nets Cambridgeshire boy £1,000 on eBay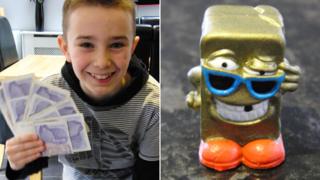 A 10-year-old boy is more than £1,000 better off after selling a small rubber toy he bought for just 62p.
Lewis Eeles, from Alconbury, Cambridgeshire found the Grimy Gold character inside a box of 12 Trash Pack toys he bought with his pocket money.
It came with a certificate confirming it was one of only 250 of the toys which have become a collectors' craze.
He decided to sell it on eBay where it was purchased by an Australian for £1,296, leaving him £1,050 after costs.
The 1in (2.5cm) rubber toys, made by Australian company Moose Enterprise, are branded as "the grossest guys who live in your garbage", and are known as Trashies.
'Was going berserk'
Inside each tub is a certificate grading the characters as "common", "rare", "ultra rare" or "limited edition".
"I looked on the list and this one was a limited edition. It was very exciting," Lewis said.
"One of my friends sold a limited edition Trashie for £180 and my dad said it might be a good idea to sell it."
Jon Eeles, Lewis's father, said: "He is crazy about these toys and has about 200.
"He was very good about selling it. His mum Sarah and I said it might be best rather than playing with it, and gave him time to think about it before he agreed it was a good idea."
The toy, one of 24 that Lewis bought for £15 in a special deal at a local shop, was put on eBay for 99p for 10 days.
"After two days we'd been offered £100, which is quite exciting for a 10-year-old," Mr Eeles said.
"Then an American collector offered £500 to finish the auction, but it was going a bit berserk by then, so we kept going."
The price rose to more than £900 on the last day of the auction, then "within the dying seconds it went to £1,296, which is a bonkers, crazy price for a tiny piece of rubber", Mr Eeles said.
Lewis said: "I'm not sure what I'll spend it on, but I might go and watch some WWE wrestling with my younger brother Max, which I've wanted to see for ages."