Egg boxes Spitfire unveiled at Duxford war museum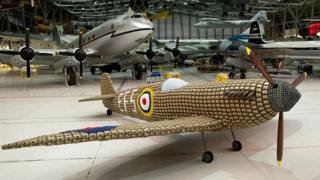 A life-size Spitfire model created from 6,500 egg boxes has gone on show at a Cambridgeshire museum.
The plane stood alongside other classic aircraft at Duxford's Imperial War Museum on Sunday to help raise support for the forces charity Help for Heroes.
The Battle of Britain tribute took creators Charlotte Austen and Jack Munro six weeks to make using 10,000 staples and 10 litres of paint.
Sculptor Ms Austen, 27, said it was an "intricate" and "enjoyable" challenge.
Members of the public helped to place the Eggs for Soldiers egg boxes into position to complete the sculpture.
Ms Austen said: "Working on the Spitfire has been quite a journey. I have enjoyed the challenge of it immensely. Help for Heroes is a charity I believe in enormously and it has been a huge honour."
The model also required five litres of glue, 5,000 nails, 100 square metres of canvas and seven metres of foam.
Co-creator and architect Jack Munro, 26, said: "It has been hugely enjoyable to work on such a unique project.
"The biggest challenge in building the structure of the Eggs for Soldiers Spitfire was to recreate the plane's iconic, but complex, geometry as accurately as possible.
"Every surface of the Spitfire is double curved, and to replicate this we have used a combination of traditional timber construction techniques and advanced digital processes such as laser cutting."