Ely bypass: Campaigners brand scheme 'devastating'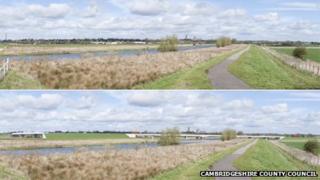 Plans for a £30m bypass would "devastate" the Cambridgeshire landscape and views of a cathedral, countryside campaigners have said.
The Cambridgeshire and Peterborough Campaign to Protect Rural England (CPRE) said the county council's plans for Ely needed to be reconsidered.
A consultation is taking place on the scheme, which the council says would reduce congestion south of the city.
It said it believed the benefits would outweigh concerns about visual impact.
The proposed one-mile (1.7km) bypass to the A142, which carries about 15,000 vehicles per day, is the council's preferred option for dealing with the "traffic bottleneck" near Ely's railway station.
'Reduced impact'
It is also considering a "hidden bypass" option with an underpass, that it acknowledged would "impact significantly less" on the landscape surrounding the 900-year-old cathedral.
It said the underpass option would be more expensive and would result in "significant engineering problems... and regular maintenance".
Michael Monk, CPRE chair, said: "The 'Ship of the Fens' [Ely Cathedral] has been one of Cambridgeshire's most loved features for centuries and should not be sacrificed.
"The council... should now be bold and choose a different solution to the road congestion problem."
CPRE members said they would "register a strong objection" to the plans, adding the bypass would have "a devastating effect on the Fenland landscape".
English Heritage has also objected to it on the grounds it would "damage" the area around, and views of, the cathedral.
Councillor Ian Bates, cabinet member for growth and planning at the council, said: "We do understand the bypass will have an impact on the landscape and historical setting of Ely and its cathedral.
"However, this impact has been considered through the design of the new bypass and reduced where possible."
A public consultation takes place until 22 March. If the plans are approved the road could open by 2015.