Cambridge seeks 1,000 Tour de France race volunteers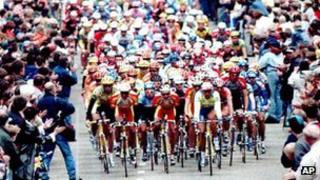 Up to 1,000 volunteers are to be recruited to help with events connected to the Tour de France, which comes to Cambridge in July next year.
The city council has asked Cambridge and District Volunteer Centre to train marshals, stewards and "greeters".
The centre was also responsible for training 250 volunteers to help during the Olympic torch relay last year.
A council spokesman said: "In terms of marshalling, this event is much bigger than the relay, so more are needed."
Sarah Colwell, manager of the volunteer centre, said the council planned to run events before, during and after the third UK stage of the Tour, which comes to the city on 7 July.
"There's a real desire to create a sporting legacy as a result," she added.
'Good start'
"We've been asked to recruit people to help with stewarding, marshalling, market research, manning events inspired by the tour and welcoming visitors to Cambridge," Mrs Colwell said.
"It's a huge task, and I think the numbers needed are more likely to be between 500 and 750 people, but potentially it could be up to 1,000."
She said the centre posted a small advert on its website on Monday.
"Within 24 hours about 50 people had expressed an interest. There's a long way to go, but it's a good start." she added.
Neil Jones, business and marketing manager for arts and recreation on the city council, described it as a "great opportunity for local communities to be involved".
The Tour de France starts in Leeds on 7 July. It will spend two days in Yorkshire before the cyclists move to Cambridge.
From there the riders go to Epping Forest and on to the Olympic Park in London, before the final sprint to The Mall.