Peterborough town hall graffiti attacker sentenced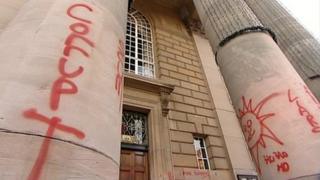 A woman has been sentenced to a three-year community order after a graffiti attack which left Peterborough Town Hall daubed with the words "corrupt", "liars" and "shambles".
Samantha Moss, 25, of Oundle Road, Peterborough, had pleaded guilty to a charge of criminal damage.
She was sentenced at the city's crown court earlier.
A council spokesman said it had "cost the council, and ultimately taxpayers, a great deal to remove the graffiti".
He added: "The Town Hall is a focal point in the city centre and a building of historical interest, and so it is always a shame when someone chooses to ruin its appearance."
The graffiti attack took place in November.