Cambridgeshire busway crash: Driver pleads guilty to charge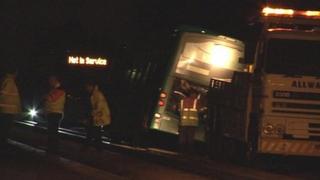 The driver of a bus which crashed on Cambridgeshire's guided busway has pleaded guilty to driving without due care and attention.
Phillip Logan, 56, of Churchgate Street, Soham was charged after his bus came off the tracks at Longstanton on 20 November.
Magistrates in Cambridge gave him eight points on his licence and a £620 fine.
It was the first prosecution relating to a driver on the £116.2m busway since it opened in August 2011.
The court heard Logan did not have his hands on the controls at the time of the accident because the bus was travelling along part of the track that automatically guides the vehicle.
Passengers reported he was "distracted" and was "tidying up" at the time of the crash.
He had been on shift since 05:30 GMT when the accident, which left the bus at a 45-degree angle, happened at about 15:00 GMT.
Logan no longer works for bus operator, Stagecoach.
His new employer described him in court as "likeable, steady, precise and hard-working".
No passengers were injured in the crash, but the tracks were damaged by the accident.
The concrete-tracked busway runs services between Huntingdon and Trumpington, south of Cambridge.
The route, which includes 13.3 miles (21.5km) of guided concrete track, is believed to be the longest in the world.