Ely car parking charge plans scrapped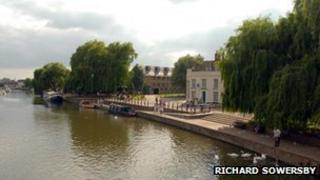 Plans to introducing parking charges in a Cambridgeshire city have been scrapped following strong opposition.
Last year, East Cambridgeshire District Council and Ely City Council said they wanted to charge people to park for longer than an hour in Ely's car parks.
However, local residents and businesses campaigned against the plans, claiming they could harm trade.
A joint statement from the councils said it was the "wrong time" to introduce the "contentious" charges.
All city centre car parks are currently free to park in, but under the new proposals drivers would have been charged after the first hour, and up to £2.50 for an all day ticket.
The councils said: "It is clear the introduction of car parking charges in Ely has become more contentious than ever before. It has become an issue which is diverting all of us from our main focus of delivering quality services for our residents.
"With the end of our proposals, the issues of managing a high demand for a limited number of spaces still remain and money which could have been invested in city centre initiatives from any surplus will no longer be possible.
"Clearly this decision will also have an impact on the district council's budget, which we will need to address over the forthcoming months to ensure we can deliver a balanced budget."