Burwell Mill's cap removed for restoration work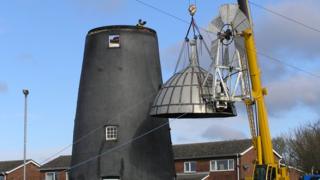 The domed cap of a Cambridgeshire windmill has been removed using a 65-tonne crane so it can be restored and start working again.
Burwell Mill's main sails have not turned for five years since the revolving cap seized up.
The mill has been given £420,000 from the Heritage Lottery Fund and others for the restoration project.
It is hoped the mill will be returned to full working condition by spring 2014.
The cap, which was on top of the 40ft-tall (12m) building, is supposed to revolve so the main sails, which are attached to it, are pointing in the direction of the prevailing wind.
The two crane operators spent three hours removing the cap, which weighs six tonnes.
New sails
Jane Phillimore, project manager at Burwell Museum, said: "The cap came off seamlessly and a temporary flat roof has been put in place.
"This is one of two iconic buildings in Burwell, along with the church, and restoration will help people understand the heritage and history of the village.
"We hope a working windmill can be an integral part of the whole museum experience."
The cap is to be restored in Lincolnshire before being put back on top of the building, which dates from about 1820.
A new set of main sails are also being built as part of the restoration project.