Ashley Yardy and Luke Fountain drowning: Accidental death verdict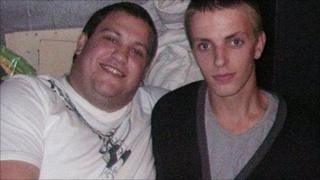 Two step-brothers drowned as one tried to rescue the other from a lake, an inquest in Cambridgeshire has heard.
Ashley Yardy, 22, and Luke Fountain, 17, died in the lake at Kingfishers Bridge, a private nature reserve near Ely, on 10 September 2011.
The inquest in Huntingdon heard the pair got into trouble after Mr Yardy entered the water to rescue Mr Fountain.
A jury returned a verdict of accidental death.
Mr Fountain, a self-employed game keeper, had gone to the lake in a rowing boat to recover some geese he had shot the night before, the inquest heard.
He got into trouble and had fallen in to the water. Mr Yardy then went in to save him.
Andrew Fountain, Luke's father and Ashley's step-father, told the inquest he was on the bank and saw the men in the water.
"They shot down. There was no noise and no bubbles," he said.
He said he remained on the bank for 45 minutes shouting for them.
Mr Yardy was the father of a baby boy who was 11 months old at the time of the deaths.
The body of Mr Yardy was found at about 16:30 BST on 11 September. Mr Fountain, 17, was found by divers the following day at about 17:00 BST.
At the time, Mr Yardy's father Dave Yardy described them as "very close as brothers" and said they spent a lot of time together.
He said Luke was a "caring person" who loved animals and the outdoor life.