Peterborough Mars Petcare's 82 staff lose jobs in closure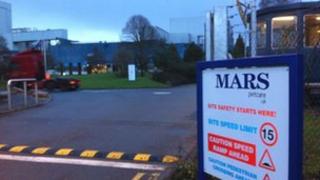 More than 80 jobs are to be lost after a pet food company confirmed it is to close its Peterborough plant.
Mars Petcare, in Shrewsbury Avenue, Woodston, announced the closure following a period of consultation with its staff.
The decision came after a "review of capacity requirements", a spokesman said. The site is expected to close later this year.
Local MP Shailesh Vara said it was "very disappointing" for the area.
Conservative Mr Vara, who represents North West Cambridgeshire, said he had been discussing the effects of the closure since Mars bosses announced proposals to shut the factory in January.
'Difficult decision'
"I asked Mars to explore all options to try and keep the factory open, but I'm afraid the decision has been taken," he said.
"What we have to remember is it's not just 82 people, but there are families behind those 82, so a much larger group of people are going to be affected.
"It's all very well Mars saying they hope to relocate people... but the reality is that people are rooted in their communities... so it's not that easy to move to other jobs."
A Mars Petcare spokesperson said: "We can confirm we have taken the difficult decision to close the Mars Petcare factory in Peterborough, following a thorough consultation.
"The site will close later this year at a date yet to be confirmed.
"In the meantime we will continue to support employees affected by this difficult decision and will offer them the best advice and help to find alternative employment."
The Peterborough factory was opened in 1974 and produces dry pet food brands including Pedigree and Whiskas.