Addenbrooke's Hospital plans £36m energy centre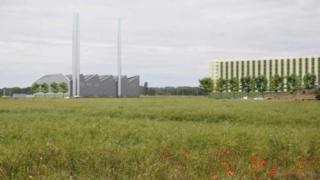 A £36m energy centre could be built at Addenbrooke's Hospital in the hope of reducing running costs.
Up to £9m a year is currently spent on heating, lighting and running equipment at the Cambridge hospital.
UK Green Investment Bank, which would fund half the money, said the centre would save £20m over 25 years and be more energy efficient.
If given planning permission, the energy centre could be built in the next three years.
Antony Marsh, of UK Green Investment Bank, said: "We've teamed up with AVIVA to invest £18m each into this project.
"It's a win-win situation, because over 25 years it is expected to save the hospital some £20m which it can invest in its core business of looking after patients.
"Secondly, it is saving 25,000 tonnes of carbon dioxide a year."
St Clair Armitage, executive director of Addenbrooke's, said building the centre would mean its existing facility could be decommissioned.
"Our boilers and combined heat and power turbine are over 20 years old now and like anything else it wears out," he said.