Soham Carnival seeks 60 past 'princesses'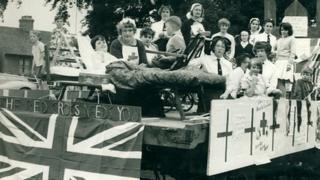 Organisers of a Cambridgeshire carnival are hoping to celebrate its 60th anniversary by gathering together all 60 previous "carnival princesses".
Kim Botting, chair of the Soham Carnival said it would be an ideal way to celebrate its diamond anniversary.
"So far we've heard from about 15, and we're hot on the trail of the very first one from 1953," he said.
"The princess from the Coronation year has been in touch, so hopefully by May we'll have a good number of ladies."
The 60th Soham Carnival and Heavy Horse Show takes place on 27 May.
It is a family affair for the Bottings. Mr Botting's father helped organise the first town festival in the 1950s and his mother was also involved for many years.
If Mr Botting can find his 60 princesses, he hopes to have a "princess cavalcade of floats" through the village.
"It would be nice to have more past princesses get in touch with us so we can have a good show on the parade," he said.
Local design company KNA Creative is collating photographs and memories from 60 years of the festival for a commemorative booklet, and organisers plan to show some of those on a big screen in the centre of town.