Cambridge University boathouse plans criticised by environmentalists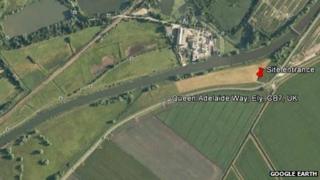 Wildlife organisations have objected to Cambridge University's proposal for a new boathouse on the river at Ely.
The University Boat Club wants to build a new facility on the Great Ouse, to include a dormitory, flat and gym.
The Wildlife Trust said it was the "most environmentally sensitive location" on the river and could have a "severe impact" on birds and otters.
Ewan Pearson, from the club, said it had moved the proposed site further away from that end of the field.
The plans were put forward jointly by Cambridge University Boat Club, Cambridge University Women's Boat Club and Cambridge University Lightweight Rowing Club.
They are currently being considered by East Cambridgeshire District Council.
Otter 'corridors'
The proposed site at Fore Mill Wash lies between two Sites of Specific Scientific Interest (SSSIs).
The Wildlife Trust's regional conservation manager, Martin Baker, described it as "the richest area around Ely" and "prime wildlife habitat".
"Unfortunately they've chosen one of the most environmentally sensitive locations along the whole river," he said.
Local conservationist and otter watcher, Cliff Carson, said the area was full of otter spraints - or droppings - and they were regular visitors to the area.
He said the proposed site would cut off the otters' "corridors" between their territories.
"Light, sound and human presence will force otters, that would otherwise move up and down the river, on to the road," he added.
New lagoon
Mr Pearson said: "We have met with the Wildlife Trust and discussed our plans. As a result we've moved our proposed site further away from the most sensitive end of the field.
"Of course people are concerned and we understand those concerns.
"We want to respond to all of them properly and carefully, which we will do."
He said the club had sought to minimise the impact of the boathouse and the plans included facilities for the local community as well as the university.
"Most importantly, from an ecological point of view, we're going to add a lagoon which will provide a better area nearby for wildlife to breed," he said.