King's College in Cambridge to charge residents entry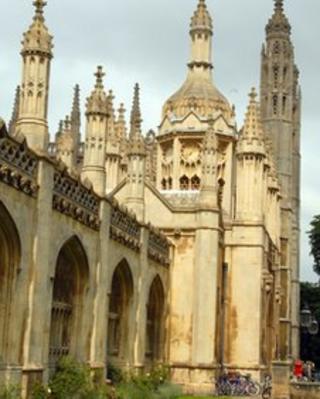 Cambridge University's historic King's College is to introduce new controls to help process its thousands of visitors.
Until now, people living within 12 miles of the 15th Century college have been able to access the grounds and its world-famous chapel free.
From April, the college is to phase in a new photographic residents' card that will cost £10 for three years.
The college said it would not profit from the fee, which would only cover administration costs.
It also hoped security of the premises would be improved by the introduction of the card.
People aged over 65 will pay £7, and children under 18 can enter without a card, but must be with a card-holding adult.
Access for the staff and the students of King's is unchanged, and services in the chapel are free for everyone.
For those coming to visit who live outside the 12-mile radius, tickets remain at £7.50 or £5.00 for children, students and senior citizens.
Admission is free for children under 12 when they are visiting with their family.
The chapel at King's College is the venue for the Christmas Eve service, A Festival of Nine Lessons and Carols, which is broadcast to millions around the world.