Blaze at Cambridgeshire recycling plant in third day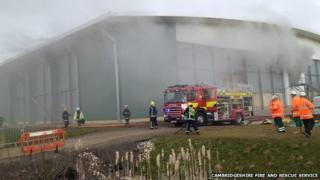 Firefighters are spending a third day tackling a blaze at a recycling plant in Cambridgeshire.
The fire at the AmeyCespa site in Ely Road, Waterbeach, broke out at about 06:50 BST on Sunday.
A spokesman for Cambridgeshire Fire and Rescue Service said 800 tonnes of organic material was alight in a steel recycling store. No one was injured.
An AmeyCespa spokesman said it was too early to determine if equipment also housed in the unit had been damaged.
The composted material is in the same building as a £42m household waste sorting machine.
The equipment broke down last September, and a spokesman said it was expected to be out of action until the end of the year.
He said it would not be possible to tell if the machine had been further damaged by the compost fire until the unit was safe to enter.
The company would be carrying out a thorough investigation into the cause, he said.
Paul Greenwell, managing director, said other recycling at the site had not been affected by the incident.