Cambridge 'yarn bomber' knits cherries for tree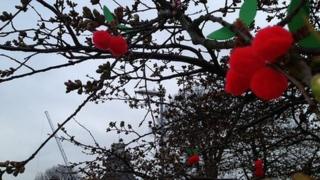 Residents in a Cambridge street woke to find spring had finally arrived after a tree was adorned with knitted cherries.
An unknown "yarn bomber" had placed bunches of the knitted fruit on the cherry tree in St Matthew's Street.
Bartow Wylie, who owns The Ark bed and breakfast in the street, said: "There are about 15 bunches. They're very bright and stand out beautifully.
"We have no idea who did it, but it's a lovely, cheerful and fun way of saying life is great."
He added: "There are two gorgeous cherry trees on the street here and the blossom is just beginning to come out, despite the freezing weather.
"If we get a few nice sunny days they will look beautiful, but in the meantime these are super."
Decorating public spaces with knitting is becoming more popular, with examples in the city including an abandoned bicycle covered in colourful yarn by a local artist known as Willow.