Cambridge street claims shortest double yellow lines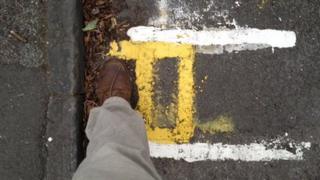 Residents living in a Cambridge street claim to have the shortest double yellow lines in the country.
The 33cm (13in) lines were painted either side of a disabled parking bay on Humberstone Road.
City councillor Damien Tunnacliffe, who represents the area, said it was "quirky", but a good thing if it helped people who needed to access the spaces.
A spokesman for the county council, which painted the lines, said it was common practice around disabled bays.
"They are there to prevent vehicles parked either side from encroaching on the bays," he said.
Mr Tunnacliffe, a Liberal Democrat councillor, said residents had been "tickled pink" by the tiny no parking lines.
"Cambridge has a reputation for breaking records and this is another one. We're claiming it as a record for the shortest double yellows until we're told otherwise," he said.
"This is one to be proud of and adds to the city's idiosyncrasies.
"But if it is designed to help people using the disabled bays, it can only be good, however amusing and ridiculous it seems," he added.