Blaze at Cambridgeshire recycling petering out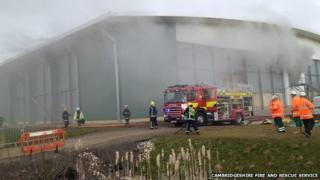 A fire which blazed for 10 days at a Cambridgeshire recycling plant is petering out, the fire service said.
It started at the AmeyCespa site in Ely Road, Waterbeach, at about 06:50 BST on 31 March.
At the height of the blaze, seven crews were in attendance as 800 tonnes of organic material burned in a steel recycling store.
A fire service spokesman said the material was now being removed from the building and any hot spots tackled.