Peterborough ditch murders: Two being questioned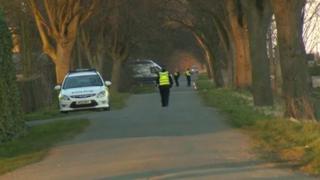 A 55-year-old man has been arrested in connection with a triple murder inquiry in Cambridgeshire.
The man, who was arrested in Peterborough on Tuesday, is being held on suspicion of assisting an offender.
Police said a 30-year-old woman arrested last week in Hereford had been brought to Cambridgeshire for questioning.
The bodies of three men, who had all been stabbed, were found in separate ditches in the Peterborough area.
Kevin Lee, 48, was found in a ditch in Newborough on 30 March.
The bodies of Lukasz Slaboszewski, 31, and John Chapman, 56, were found in a ditch at Thorney Dyke on 3 April.
All three men were from the Peterborough area.
Six people have been arrested in connection with the murders.
A 36-year-old man charged with perverting the course of justice will appear at Peterborough Crown Court later.
A 47-year-old man arrested in Hereford last week, and questioned about the murders over the weekend, has been released pending further enquiries.
Two men, aged 23 and 32, are currently on bail.