'Surprise' at Cambridge University boathouse objections figure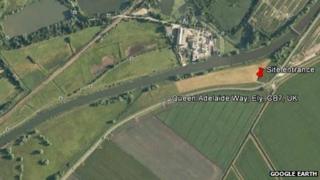 More than 75% of people who commented on plans for a new Cambridge University boathouse at Ely have opposed the scheme, it has been revealed.
The figure was described as "surprising" by boat club spokesman Ewan Pearson.
Objectors claim the scheme will have a "severe impact" on wildlife.
Mr Pearson said they had tried to "set the record straight", claiming the scheme will "not endanger any wildlife".
The club believed the impact of the scheme, which resulted in more than 230 comments during a public consultation, has been "greatly exaggerated" by opponents," said Mr Pearson.
'Lobbying mission'
"I am surprised at the number of comments. There has been a lobbying mission locally, against the plans.
"We chose instead to rely on the strong merits of our application and its conformity with planning regulations," he added.
Cambridge University Boat Club, Cambridge University Women's Boat Club and Cambridge University Lightweight Rowing Club want to build the new facility on the Great Ouse.
It will include a dormitory, flat and gym.
Planners at East Cambridgeshire District Council revealed 182 people had opposed the plans with 51 expressing support.
The Wildlife Trust, Natural England, the RSPB and members of the public are among those concerned that breeding wetland birds and otters will be adversely affected by the boathouse.
The boathouse plans also includes facilities for the public and a lagoon to encourage more wildlife to the area.