A14 upgrade: Girton junction widening in £3m highways plan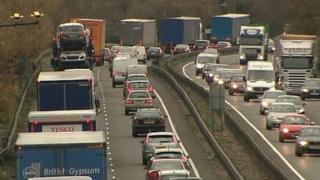 An additional lane will be added to the A14 near Cambridge next year in an attempt to relieve congestion.
The Highways Agency said the £3m scheme would help fund construction between Histon and Girton.
A county council spokesman said it was a "short-term measure" while longer-term solutions for the A14 were sought.
However, residents have raised concerns about increased traffic noise and said sound barriers must be installed as part of the project.
Liberal Democrat councillor Jonathan Chatfield, who represents Histon and Impington, said: "There was no mention of a noise barrier in the announcement.
"Residents have suffered long enough with the noise, and what we need is a commitment to that noise barrier along the side of the A14 just to give them some protection."
'Long-term commitments'
Parish councillor and Girton resident, Brian Bromwich, said: "We live about 800m west of the A14 and with the windows open we get quite a lot of noise from it already."
He said he also had concerns about the "environmental impact" while work was being carried out to create the extra lane.
The A14 links the country's largest container port at Felixstowe in Suffolk with the M1 and M6 motorways via Cambridgeshire and Northamptonshire.
In 2011 the government announced long-term plans to tackle congestion, including widening the road and new safety measures.
Proposals to toll the road were announced in July.
The entire scheme is estimated to cost about £1.5bn and councils and businesses across the region are currently discussing ways to contribute to financing the plans.
Alex Plant, executive director for transport at Cambridgeshire County Council welcomed the latest funding boost, but added: "Although this is good, it's £3m and we know the cost of the whole scheme is well over £1bn.
"We need to accelerate that, because only when we get the longer-term commitments beginning to come through, can we properly address the problems that afflict so many residents and businesses in the county."
As well as the £3m for the A14, the Highways Agency announced a further £700,000 to improve the A1/A47 Wansford southbound slip road near Peterborough, to reduce the amount of traffic queuing to get on to the A1.