Classic car auction expected to attract more than 1,000 enthusiasts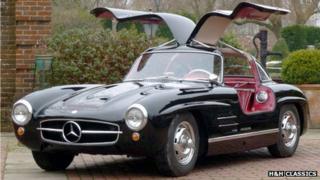 More than 1,000 people are expected at an auction of cars, motorcycles and automobilia in Cambridgeshire.
Lots on sale at Imperial War Museum Duxford on Wednesday include a 1955 Mercedes Benz 300SL "Gullwing", expected to fetch up to £600,000.
A one-off 1990 Jaguar XJ220 developmental prototype is expected to sell for up to £180,000.
However, a spokesman for auctioneer H&H Classics said many smaller lots could go for as little as £20.
These include enamel signs and old petrol and oil cans.
Also on sale are old bicycles, including a Velocipede "boneshaker" and a Penny Farthing, both of which are expected to fetch more than £1,000.
They form part of the Bamber Automobilia Collection amassed since the 1970s.
More than 90 cars are on offer including the oldest, a 1915 Sunbeam 20hp Tourer estimated to be worth between £50,000 and £60,000.
The auctioneers are also selling 60 motorcycles including a 1932 Brough Superior BS4, one of only 10 of its type built by the factory in 1932.