Linton Zoo celebrates rare white-collared lemur birth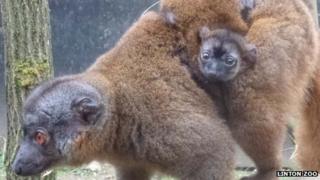 Conservationists in Cambridgeshire are celebrating after the birth of a "rare and endangered" white-collared lemur.
The male, born at Linton Zoo, is one of only 14 in Europe.
Zoo director Kim Simmons said: "They are classified as critically endangered. The next step in the wild is extinction, so every birth is incredibly important."
The zoo runs the European breeding programme for white-collared lemurs and is home to 10 of Europe's 14 animals.
The species, Eulemur cinereiceps, is listed as critically endangered on the International Union for Conservation of Nature (IUCN) Red List.
They are native to south-eastern Madagascar.
Selective logging and conversion of rain forest habitat to agricultural land are the greatest threats to the survival of the white-collared lemur, together with hunting, according to the IUCN website.
Mrs Simmons said: "We have been particularly successful with the white-collared [lemurs] and now have enough home-bred animals to be able to set up more potential breeding pairs at other reputable zoos.
Zoo staff are currently raising funds to provide weather stations and camera traps to assist researchers in Madagascar to collect environmental data.
"The information from this equipment will be fed back to the European zoos breeding lemurs, to help them manage their lemur environments and captive programmes more effectively," she added.