Addenbrooke's cash incentive to slow bed blocking criticised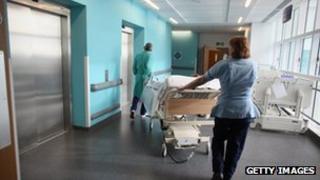 Cash incentives offered at a Cambridge hospital to alleviate bed blocking have been described as "morally wrong" by health campaigners.
Addenbrooke's Hospital wards will get £1,000 if they discharge two patients by 10:00 each day for a week and £5,000 if they manage it for a month.
The Patients Association described it as the wrong approach to care.
However, the hospital stressed no-one would be discharged until they were ready and aftercare was in place.
The "Two out by 10" programme has been introduced by Dr Keith McNeil, who took over as the hospital's chief executive this year.
'Joined-up thinking'
He said: "We are putting in some incentives for people to discharge-plan more effectively.
"When patients are ready, they can be moved efficiently and quickly from those beds, and other patients who need them can be moved in."
He said the scheme, paid for by the hospital trust's general budget, could reduce the number of delayed transfer of care cases, which occur when patients are deemed well enough to leave but post-hospital support is not immediately available.
This often means a patient who could leave in the morning, freeing up a bed for another, has to stay until later in the day.
"On any one day we have up to 90 delayed transfers of care," Dr McNeil said.
"That's testament to the fact that we don't push people out who aren't ready.
"The idea is to get everyone involved in improving patient flow in a pre-emptive way, rather than leaving it to the last minute."
Katherine Murphy, chief executive of the Patients Association, criticised the scheme, believing financial incentives could lead to problems.
"We must make sure there is joined-up thinking between health and social care, so we ensure we're discharging them for the right reasons and not for financial incentives, which are morally wrong," she said.
A hospital spokesman added: "If we can manage patient flow effectively it is less costly, so there are financial benefits for the trust as well as obvious benefits for our patients, who can go home sooner."
In Peterborough a six-month pilot has begun that allows elderly patients to be treated in their own house or a care home instead of at hospital, to reduce the problems of bed blocking.