Cambridgeshire police target prolific shoplifters with postcards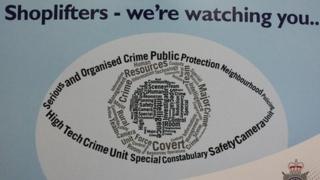 Prolific shoplifters in Cambridgeshire are receiving hand-delivered postcards from the police, warning "we're watching you".
It is part of a county-wide crackdown to deter repeat offenders and warn them of the consequences of theft.
The reverse of the card reads: "Last year we arrested more than 1,500 of you."
A spokesman said: "Our message is, 'You're being watched so don't risk a trip to custody by shoplifting'."
In the past year there were 4,357 reported shoplifting incidents in Cambridgeshire - a slight rise on the year before when there were 4,319.
Hundreds of the cards are expected to be delivered as part of a month-long campaign to tackle "crime trends" in the county.
Posters are also being distributed to schools warning: "It doesn't matter how many A*s you get if you're caught shoplifting. No one wants to employ a thief."
Community safety officer, Julie Hanrahan, said: "The postcards are just one of a range of measures we are taking to tackle this type of crime, which has a huge effect on the business community and ultimately impacts on other shoppers."