Peterborough hospital accused of diagnosis failure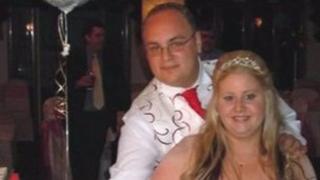 A man in Cambridgeshire has claimed doctors failed to spot a dangerous condition in his pregnant wife.
Rich Soper said his wife Emma then caught the "flesh-eating" infection necrotising fasciitis after treatment at Peterborough City Hospital.
He said doctors had initially failed to diagnose his wife's ectopic pregnancy.
A hospital spokesman said it was sorry to hear about Mrs Soper's illness and was investigating the claims. Mr Soper is seeking legal advice.
Mrs Soper, who was in the early stages of her pregnancy, had been sent home, but was called back for emergency surgery to treat her ectopic pregnancy the following day, said Mr Soper.
Medical emergency
An ectopic pregnancy is when a fertilised egg implants itself outside of the womb, usually in one of the fallopian tubes.
This means the egg will not develop into a baby.
If an ectopic pregnancy is left to develop, there is a risk the fertilised egg could continue to grow and cause the fallopian tube to rupture, which can cause life-threatening internal bleeding.
A ruptured fallopian tube is considered a medical emergency.
Two days after surgery, Mrs Soper was discharged, only to become ill again.
She was readmitted and diagnosed with necrotising fasciitis, a rare bacterial infection.
She has since been moved to the intensive care unit at Addenbrooke's Hospital in Cambridge.
Mr Soper complained Peterborough City Hospital "failed" his wife.
"If it wasn't for the fantastic care that she's receiving at Addenbrooke's, I could well be sitting here grieving the loss of my wife," he said.
Chris Wilkinson, director of care quality and chief nurse at Peterborough and Stamford Hospitals NHS Foundation Trust, said: "We are we are looking in to her case in great detail.
"We will share the findings of our investigation with Mrs Soper and her husband."