Duxford airshow marks US Army Airforce 'friendly invasion'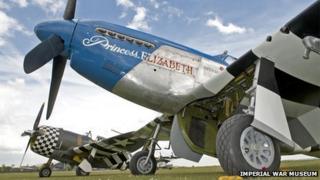 Four World War II aircraft, which make up the Eagle Squadron, can be seen together for the first time in the UK, at IWM Duxford on Sunday.
A Hawker Hurricane X, Supermarine Spitfire Mk I, Republic P-47G Thunderbolt and P-51C Mustang Princess Elizabeth will fly in its spring show.
The display marks the 70th anniversary of the United States Army Air Forces' (USAAF) arrival at RAF Duxford.
The 78th Fighter Group's first combat mission flew out on 13 April 1943.
The four planes will fly together exactly 70 years to the day that King George VI and Queen Elizabeth visited RAF Duxford to welcome the 78th Fighter Group to Great Britain.
American history
The group began arriving at Duxford from late 1942 and the airfield was handed over to USAAF in April 1943 as Base 357.
It was part of what was known as the "friendly invasion", when thousands of American servicemen began arriving in Great Britain.
The site now houses an aviation museum, including the American Air Museum.
The four planes, which will open the airfield's annual spring display, represent the history of American pilots serving in Europe during World War II.
Before Americans officially entered the war, US volunteers came over to Britain and flew Spitfires and Hurricanes with the RAF.
These recruits were formed into their own squadrons, known as Eagle Squadrons, and the display is named in their honour.
The P-47 Thunderbolt and P-51 Mustang represent USAAF efforts during the latter half of the conflict.
Bravery remembered
It first flew Thunderbolts but re-equipped with P-51 Mustangs in December 1944.
US servicemen stayed at Duxford until the end of the war, carrying out bomber escort and fighter sweeps, ground strafing and ground attack missions.
One of Sunday's pilots, Paul Bonhomme, said it was important to remember the anniversary of servicemen's arrival in Cambridgeshire.
"It is vital to remember the bravery of the young people who stuck their necks out in the support of world freedom, to ensure that we are here doing what we do today," he said.
Eagle Squadron lead Dan Friedkin said: "It is a great honour to present the squadron in memory of the brave aces who piloted them and the greater Anglo-American air power alliance."