Cambridgeshire's council leader is Tory Martin Curtis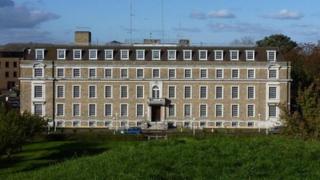 The Conservatives have retained the leadership of Cambridgeshire County Council, despite losing their overall majority in this month's election.
Martin Curtis was elected at a full council meeting during which cabinet-style government was rejected in favour of cross-party committees.
Mr Curtis received 32 votes after Liberal Democrat and Labour councillors abstained.
The Independent councillor John Hipkin received 16 votes.
Mr Curtis represents Whittlesey, in north Cambridgeshire.
He takes over from fellow Conservative Nick Clarke, who lost his Fulbourn ward.
Toilet trouble
The Conservatives lost their majority after 16 years in control earlier this month.
There are now 32 Conservative, 14 Liberal Democrat, 12 UKIP, seven Labour and four independent county councillors.
A stir was caused during the first half of the council meeting, when former Liberal Democrat leader Killian Bourke voted on behalf of a colleague Barbara Ashwood while she took a loo-break.
Mr Bourke said he was not aware this was against the rules and the vote, which was on a motion to introduce government by committee, was discounted.
The subsequent Liberal Democrat motion to replace the cabinet-style government of the council, which is made up of councillors from the dominant party, with cross-party committees was passed by 37 votes to 31, with one abstention.