Littleport cable crash 'caused by wind and poor maintenance'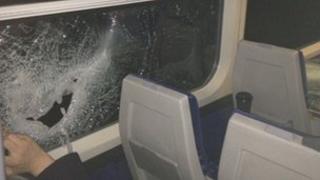 Poor maintenance and high winds led to overhead cables crashing through two train windows in Cambridgeshire, a report has found.
Passengers had to be led to safety near Littleport after windows were smashed on an early morning train to London's King's Cross in January 2012.
The Rail Accident Investigation Branch (Raib) said failure to maintain the cables to industry standards caused them to come loose.
Two people were hurt in the incident.
One passenger suffered a head injury and another a leg injury.
The Raib report found the train was travelling at about 80mph (129 km/h) when the incident happened.
It said maintenance of the overhead line had not met Network Rail standards.
The incident was caused as a result of a combination of "foundation movements" and high winds, the report found.