Queen and Duke of Edinburgh visit Cambridge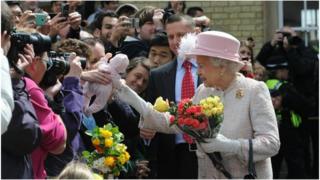 The Queen and Duke of Edinburgh have visited a research laboratory and a maternity hospital during a trip to Cambridge.
The royal party arrived in the city by train before taking a ride on a bus which travels for some of its route on guided concrete tracks.
The Queen officially opened the £212m Medical Research Council Laboratory of Molecular Biology (LMB).
She then met staff at Rosie Maternity Hospital and unveiled a plaque.
The royal party travelled from London to Cambridge by scheduled train, and were greeted by about 400 well-wishers.
'Kind and lively'
The Queen was met by Mayor Sheila Stuart and the Lord Lieutenant of Cambridgeshire, Hugh Duberly, before accepting flowers and gifts from members of the public.
The Queen accepted a small pink doll from one woman, believed to be a gift for the Duchess of Cambridge whose baby is expected later this year.
Jessica Cahn, nine, who presented flowers to the Queen, said: "I thought she was very kind, and, well, I thought she might have been a bit more grumpy because when people get older they get slightly more grumpy.
"But she was very kind and quite lively."
Under the microscope
The royal party then boarded a guided bus, driven by Stagecoach employee Mick Capper.
Mr Capper said it was a great honour to be chosen to drive the bus for the Queen and duke, and described it as the "climax of my career".
"I don't think it gets any better than driving the Queen," he said.
The Queen was then shown around the new £212m facilities at the medical research lab, one of the world's leading research institutes.
She was invited to examine mouse eggs under a powerful microscope as staff explained their research into why some women trying to conceive produce abnormal eggs.
The Queen and duke later visited the Rosie Maternity Hospital, where they spoke with staff, visited the cafe and unveiled a plaque to mark the official opening of an extension.
Margaret Pearce-Higgins, a retired nurse, said it was the second time she had met the Queen. She was first introduced when she was a student nurse in the city in 1962.
She said "I spoke to her about my nursing career over the years. It was much more relaxing this time around."
As part of the visit, the Queen was also shown an exhibition of photographs and memories put together to commemorate her 1962 visit to open Addenbrooke's Hospital - which shares a site with the maternity hospital.