Strawberry Fair to attract thousands to Cambridge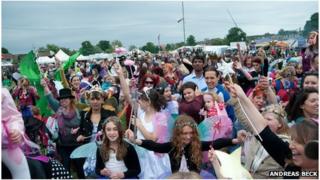 Motorists are being warned to allow extra time for journeys on Saturday as crowds descend on Cambridge for an annual free festival.
Strawberry Fair - expected to attract up to 30,000 people from around the country - is taking place on Midsummer Common from about 11:00 to 22:30 BST.
Walnut Tree Avenue and a number of footpaths will be closed.
CCTV cameras will be in operation and alcohol restrictions will be enforced, Cambridgeshire police have said.
The festival has been dogged by alcohol and drug-related problems in the past, with about 400 people being arrested in 2009.
'Family focus'
However, last year, with restrictions on entry points and the amount of alcohol allowed to be brought on to the site, the number of arrests fell to five.
Insp Steve Poppitt said: "This year's event has a real family focus and we have been working hard with the Strawberry Fair Committee and city council.
"Our planning has looked at the best way to tackle past issues at the event and minimise disruption for residents.
"There will be practical measures in place to prevent the fair being spoiled by alcohol or drug misuse and criminal and anti-social behaviour."
The fair site will have perimeter fencing with only four public entrances, at Maids Causeway, Walnut Tree Avenue, Victoria Avenue Bridge and Mitcham's Corner.
People attending the fair will be restricted to bringing in no more than four cans of beer or the equivalent per person, and no spirits will be allowed.
The festival begins at about 11:00 BST with a decorated bicycle parade through streets adjoining the common.