Stephen Morton: Wife's tribute to Cambridge raft death man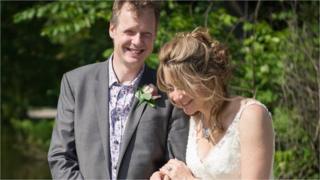 The wife of a man from Cambridge who died in Alaska last week has paid tribute to "a loving dad and just the most loving husband".
Stephen Morton, 47, was white water rafting on Six Mile Creek, near the town of Hope, when the craft overturned and tipped everyone into the water.
Mr Morton was rescued but died later.
His wife Vanessa said he had climbed to the summit of Mount McKinley only a few days before his death.
Ms Langlois said: "As you can imagine we are devastated by the tragedy of Steve's death.
Conflicting reports
"He was so full of life, optimism and incredible energy. He was the most driven and proactive man I have known.
"He had an amazing sense of humour, so many friends and was a loving dad and just the most loving husband.
"He had trained for a year to be fit for climbing (Mount McKinley) Denali and was meticulous with his preparations.
"He had a wide circle of friends with whom he used to train, cycling, rowing, running and boxing.
"So many tributes have come in from people who thought the world of him."
Mr Morton leaves behind three daughters by a previous marriage, Ione, Simone and Elissa, a step son Jules and his son with Ms Langlois, Sebastian.
She said: "We have always been one big family, embracing my ex-husband and his ex-wife as one big extended family with no acrimony.
"I cannot begin to imagine how we will cope with his loss. He was my world."
Ms Langlois last talked to her husband on the phone just before he went rafting.
"He told me how happy he was to be coming home to see his fab family again and how much he missed us.
"The people in his climbing team suggested he went white water rafting and that he would be given a test to make sure he was competent before he went. The climbing colleagues knew him to be really strong and careful.
"Ultimately we do not yet know what happened in the accident nor whether the appropriate measures of safety and rescue were carried out.
"We have been given conflicting reports. We are obviously really distressed about this."
Mr Morton worked for Cambridge Assessment, which runs three examination boards and the company also paid tribute to him.
A spokesman said: "Stephen had worked with us on major projects over many years and we had learnt of his death with great sadness."