Cambridge University's £3m zoology museum project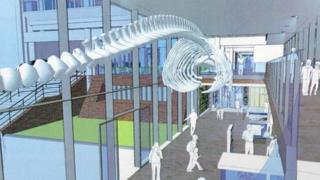 A museum in Cambridgeshire has closed for three years as it begins a £3.67m refurbishment.
Cambridge University's Museum of Zoology, which houses four million specimens, has been at its Downing Street site since 1865.
It is hoped that funding for the project will come from the Heritage Lottery Fund and charitable bodies.
Project manager Kay Smith said it will then be "accessible to everyone from small children to adults".
The completed project will focus on the stories behind the collections and of the people associated with them, including Charles Darwin, Alfred Russel Wallace, Hugh Edwin Strickland and Hugh Cott.
'Understanding animals'
Ms Smith said the refurbishment will result in "slightly more" items on display as well as offering "state-of-the-art storage areas for all the collections".
"We will have greatly improved interpretation within the museum which will focus on explaining to the general public the significance of the collections and the importance of our understanding the animal," she said.
"We are also working hard to ensure that our interpretation is suitable and accessible to everyone from small children to adults, from those with little knowledge of the collections to the academic visitor."
The Museum of Zoology receives around 70,000 visitors each year, including school parties and visiting academics.
The original Victorian museum was demolished in 1965 and moved into a 515 sq m (1, 689 sq ft) building in the early 1970s.
When the project is complete the museum will be slightly larger at 560 sq m (1,837 sq ft).
The university has received a Stage 1 grant of £180,800 from the Heritage Lottery Fund and will be applying for a Stage 2 grant of £1.4m.