Cambridge City FC fan's dugout wedding present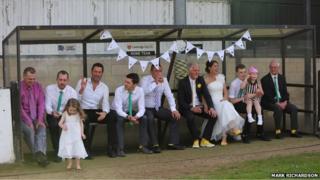 A football fan has received a "truly quirky" wedding gift - his favourite team's dugout.
John Aves has been a Cambridge City FC fan since the 1960s and spent six years sitting in the home team dugout as the club's physiotherapist.
The club is being demolished and friends bought the dugout at auction.
It was presented to him and his bride at their Norwich City FC-themed wedding - Mr Aves' other favourite club. He said he hopes to use it on his patio.
Cambridge City's football ground on Milton Road was sold to developers in 2006 and its lease ran out earlier this year.
'Truly quirky'
An auction was held after the final game of the season and one of the lots - the dugout - was purchased by two of Mr Aves' friends.
During the wedding reception - which was colour-coded yellow and green to match Norwich City's club colours - and held at the Cambridge City ground, guests presented the couple with their gift.
Mr Aves described it as "an incredible surprise" and one of the best-ever gifts.
The 16ft (5m) structure will be removed before the bulldozers finally move on to the ground, which was the club's home since 1922.
Mr Aves said he planned to install it on the patio at the end of his garden in St Neots in Cambridgeshire.
"It will have to be cut down a bit though, as we live in a fairly small Victorian house," he said.
"I'm sure it will make a lovely place to sit and enjoy the evening sun with a nice glass of something."
He said he was sure his wife Caroline would not mind as she "loves anything truly quirky".
"It was almost part of the wedding vows that she had to tolerate the fact I'm mad-keen on football," he added.