YouTube road rage outburst Fenland councillor apologises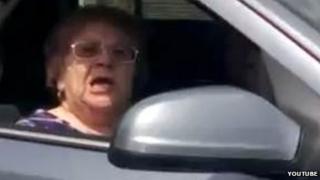 A district councillor has apologised after a video of her swearing at another driver and telling him "drop dead" was posted on YouTube.
Florence Newell, 73, a Conservative member of Fenland District Council, was caught on camera in March, Cambs.
She said she regretted her language but that the other driver had been at fault for refusing to give way.
"I shouldn't have said it but I was angry. I don't usually use language like that," she said.
'Drop dead, mate'
Mrs Newell chairs the council's corporate governance committee and represents Slade Lode ward in Chatteris.
She is also a member and former chairman of Chatteris Town Council.
The incident happened as Mrs Newell's Renault came head-to-head with a Ford car in Gaul Street, March, on Wednesday.
Mrs Newell was driving and her husband Keith, 83, was in the passenger seat.
In the video, shot from the driver's seat of the Ford, neither car moves for a few seconds and then Mrs Newell pulls slowly past.
As she passes she swears at the driver through her open car window, adding: "I'll tell you straight - drop dead, mate."
'He didn't stop'
Mrs Newell said: "I did use a rather rude word. I've got grandchildren and I don't think they would want to hear it. It just came out."
She said she was angry because the other driver refused to wait at an obstruction on his side of the road.
"In my opinion, I was not in the wrong," she said.
"He didn't stop. He came into the middle of the road and blocked me. He refused to move and got his camera out.
"He hadn't got his hands on the steering wheel and he wasn't driving safely."
A Fenland District Council spokesman said it had received no complaints about Mrs Newell's behaviour and had no comment.