Shepreth village newsletter 'freedom of speech' row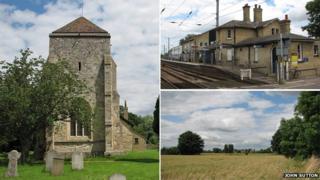 A row has broken out over a village newsletter after a council said it wanted to check letters and emails from the public before they were published.
Jonathan Butler, editor of the Shepreth newsletter, published an open letter in the July edition saying "freedom of speech" was at stake following Shepreth Parish Council's request.
He said the letters pages were there for "people to express their views".
The parish council said his comments were "out of context and misleading".
Its clerk, Charles Cook, had written to Mr Butler in May to say he had received an email from a local resident concerning the recreation ground.
He said it contained "inaccurate" information and asked Mr Butler not to print it in the newsletter, if he received the letter.
'Important principle'
In the email seen by the BBC, Mr Cook then wrote: "May I also ask that if you receive any letters or emails etc from residents concerning the parish council that you confirm the accuracy and content with me before printing it."
The All Saints' Shepreth Church and Village Newsletter is published every month and is delivered for free to all of the households in the Cambridgeshire village.
Mr Butler, who has edited the publication as a volunteer for two years, shared the final response of a series of emails between himself and Mr Cook with readers of the newsletter.
"While we are only talking about a limited circulation church and village newsletter, I think there is an important principle at stake here - that of freedom of speech," Mr Butler wrote.
"As the editor, I make the editorial decisions on what to include and what to leave out, and while I do not claim to have monopoly of accuracy, I always try to guard against defamation and always grant the right of reply."
Mr Butler said he decided to publish the letter to show readers what he had been asked to do and why he "would not be doing it".
But Mr Cook said he was wrong to have published the letter, which did not tell the full story.
"The editor's reference to 'freedom of speech' implies that the parish council seeks to suppress this," he said.
"This is far from the case and for the record Shepreth Parish Council does not and will not suppress freedom of speech or the rights of anyone to voice their opinion at anytime in any media they consider appropriate."
Mr Butler said he planned to continue editing the newsletter.