Llywelyn Thomas 'beaten to death' at Cambridgeshire home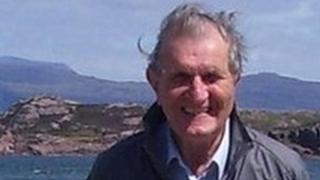 Two men beat a widowed farmer to death in his own home before trying to drive away in his broken-down car, a court has heard.
Llywelyn Thomas, 76, was found dead inside his home in Chittering, in Cambridgeshire, in December 2011.
Cambridge Crown Court heard that Mr Thomas was killed after burglars forced their way in and attacked him.
Frankie Parker, 26, of Nene Road, Ely, and Gary Smith, 21, of no fixed address, both deny murder.
Mr Parker has admitted a charge of robbery, but Mr Smith denies the offence.
Prosecutor Karim Khalil QC told Cambridge Crown Court that the pair restrained Mr Thomas, who was originally from south Wales, while they robbed his house.
'Blood on floor'
"Afterwards, instead of leaving Mr Thomas unhurt, perhaps even bound upstairs, they set about a savage beating - he did not stand a chance," Mr Khalil said.
"The assault was mainly to his head, face and upper back.
"There were signs of stamping, blood on the floor and doorways and no defence injuries, so it seems that Mr Thomas was unable even to try to defend himself.
"He was left for dead on the upstairs landing."
Afterwards, Mr Khalil said the pair stole Mr Thomas's Rover car, which could not go above 20mph (32km/h).
Realising it was not a suitable getaway car, they abandoned the vehicle before changing out of their blood-spattered clothes, Mr Khalil said.
He added: "Gary Smith may have left without trousers, wearing only his boxer shorts on this cold, wintry night."
After dumping the car in the village of Milton, they called at the house of Mr Parker's brother Martin nearby to change out of their "incriminating" clothes and to call Mr Smith's father, John Smith, who drove them away, Mr Khalil said.
The men spent the following weeks in Cambridge and traveller sites in Yorkshire.
Mr Khalil said: "They were unable to contain their desire to talk about their exploits so members of their community soon learned that they were the ones responsible for the killing."
Police investigating the murder seized two crowbars from the Fen Road travellers' site in Cambridgeshire, where the two men had been living, the court heard.
At least one of these may have been used in the attack, Mr Khalil said.
Ornamental eggs, watches and a wallet were taken from the property.
John Smith, 67, of Wold Gate, Bridlington, East Yorkshire, is also standing trial after pleading not guilty to assisting an offender.
This count relates to an allegation that he acted as the getaway driver.
He has admitted another charge of assisting an offender by providing a false alibi.
The trial continues.