Milton sewage smell caused by methane bag splitting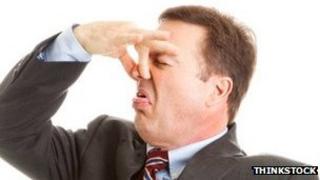 Residents complaining about excessive smells from a Cambridge sewage works have been told the problem was caused by a tear in a "giant bag of methane".
People living in north Cambridge and nearby Milton have become used to occasional wafts from the plant, but said recently it had been "atrocious".
Anglian Water apologised for the "smelly gas escape" but said it was "a highly complex problem to address".
It said it hoped the tear would be repaired "as quickly as possible".
Residents complained they had been unable to sit in their gardens and enjoy the recent warm weather, and had to keep their doors closed.
'Pong' website
One said on Twitter: "It's atrocious. The door's open and it's just ugh."
Another suggested the water company used duct tape to speed up the repairs.
The Milton Parish Council website even has a section dedicated to what it calls "the sewage works pong".
It says the plant has been "intermittently causing a foul odour since the late summer of 2001".
However, Anglian Water has admitted there is a reason for the recent increase in malodorous methane,
A spokesman said: "It has been caused by a tear in a giant bag which is used to hold methane gas produced during the treatment process.
"This is allowing harmless, but at times smelly, gas to escape.
"Unfortunately, because of where the bag sits in the treatment process, this is a highly complex problem to address.
"We're due to meet with specialist contractors in the coming days to understand how we can solve this as quickly as possible."