Cambridgeshire 'pirate island' could be dismantled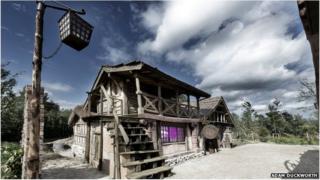 A replica pirate island built on private land in Cambridgeshire may have to be dismantled if a retrospective planning application is refused.
"Challis Island", near Landbeach, was created for the Dickerson family and includes a lagoon and tavern.
However, the family did not seek planning permission for the structures before work started.
The district council has started a 21-day consultation after which they will decide whether the island can stay.
Kettering-based The Master Wishmakers created the island within a lake on the site of a former quarry.
'Not visible'
Five mainly timber "recreational buildings" were designed to resemble an abandoned 18th Century colonial island.
They include the pub, a "lubbers' locker", "coffer cabin", "dead man's deck" and "gibbet gate".
The retrospective planning document states the lake and landscaping has also been improved to encourage wildlife.
It adds: "The site is not visible from any public vantage points."
The island "was not intended to be open to the public", and "would remain for the family's personal enjoyment".
A spokesman for The Master Wishmakers said the island was created as a legacy to a late member of the Dickerson family.
A spokesman for South Cambridgeshire District Council, which is considering the application, said: "We always encourage residents and businesses to contact us before carrying out any development so we can give them advice and help them consider what planning permissions will be needed.
"Avoiding retrospective planning applications often means the whole process is quicker and cheaper for the applicant."
No one from the family was available to comment.