Peterborough map to boost independent businesses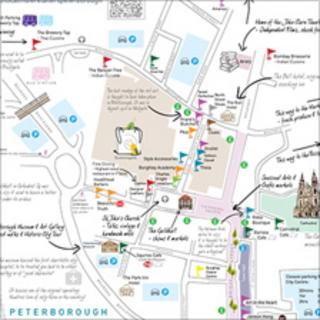 A map encouraging shoppers to "search out" hidden independent businesses has been produced by a retail group in Peterborough.
Local Indie Retailers created the map which is being promoted throughout the city.
Boutique owner Rachel Parkin said: "I don't think Peterborough is really known for independent retailers, but we have got a thriving sector.
"We don't have money to advertise so hopefully this makes us more visible."
The map currently includes details of 25 shops as well as information about hotels, restaurants and tourist attractions such as the cathedral.
"The idea is to increase footfall in the city as well as encouraging shoppers to look at what else is available," Ms Parkin said.
"We don't tend to have 'A1' locations and are often hidden down the side roads.
"Hopefully this will help keep people in the city centre for several hours."
Neil Darwin, chief executive of Opportunity Peterborough, a group formed to attract business and growth to the city, described the map as "an important part of the jigsaw promoting Peterborough".
"The city has hidden its light under a bushel for some time and the map is an important part of the journey to getting the Peterborough's reputation built up," he said.
The map is available at hotels, the museum, cathedral and online.