Cambridgeshire housing development plans face objections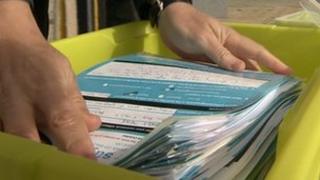 Campaigners have handed 1,543 letters of objection against council plans to build thousands of new homes in parts of south Cambridgeshire.
As part of the Local Plan submission 3,500 homes are planned for Bourn Airfield, with an additional 9,000 properties at Waterbeach.
Des O'Brien, of the Stop Bourn Airfield Development, said: "We're saying draw the line somewhere."
The public consultation on the plans concluded on Monday.
The Local Plan is a set of policies and land allocations that will guide the future of south Cambridgeshire over the next 20 years. Once adopted, all planning applications will be assessed against the policies in the plan.
Mr O'Brien asked: "Why do we also need West Cambourne and Bourn Airfield, that would give us 10,000 houses, effectively a new town, in a rural setting?"
Much of the opposition has come from people living in the surrounding villages of Bourn, Toft and Caldecote, but with a growth of jobs in the area the demand for housing is set to increase in the future.
Pippa Corney, of South Cambridgeshire District Council, said: "We have to get a balance and it's very difficult.
"At the end of the day we need houses and they've got to go somewhere. Obviously we're going to upset some people, we know that.
"But we are listening and we've got to go through those responses and see what they've come out with."
The homes would be in addition to other developments, including the 10,000 already approved at Northstowe.