Cambridgeshire's fire authority to conduct pay review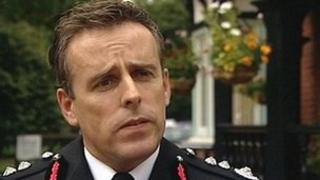 The chairman of Cambridgeshire's fire authority has ordered an "urgent" pay review after the fire minister criticised the service's high salaries.
Minister Brandon Lewis said it was "not clear" why Graham Stagg was the fifth highest paid fire chief in the country while running the 25th biggest service.
He also criticised a deal in which Mr Stagg left and returned to his old job after only a month of retirement.
Sir Peter Brown said senior management structure would also be reviewed.
Last month, the authority said it allowed Cambridgeshire's chief fire officer Mr Stagg, who was believed to be on a total salary with bonuses and pension of more than £200,000, to continue working after his retirement.
It was condemned by Fire Minister Mr Lewis, who said it showed a "lack of openness", and the Fire Brigades Union (FBU), which said it revealed a "cosy relationship" at the top.
'Matter of urgency'
It has since been uncovered that the assistant chief fire officer, thought to be earning more than £150,000, was also offered the same retirement deal as Mr Stagg but has yet to take up the offer.
Responding to Mr Lewis, Sir Peter said: "As you are no doubt aware we are not the only authority to have re-engaged uniform staff, including chief fire officers.
"We feel fully justified in our level of pay for staff, however, as the needs of the business change, so may the pay.
"You indicate in your letter that this matter has caused some public concern. In the light of this I am minded to ask our overview and scrutiny committee to review our pay policy procedures as a matter of urgency.
"I will also suggest to members of the authority that we commence a piece of work to review our SMT [senior management team] structure in time to coincide with the end of Graham Stagg's current contract."
Last month Mr Stagg denied on his internal staff blog that he was "feathering his nest", saying he was on a three-year fixed-term contract and was no longer earning pension contributions.
The fire authority said it was "not in breach" of any pay policies.