Cambridgeshire fire deputy pension offer angers union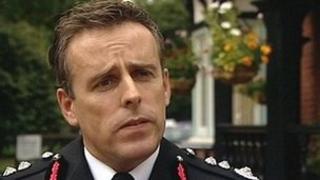 The firefighters' union has reacted angrily to the news a second senior officer has been offered the chance to retire, claim his pension lump sum and then return to work in Cambridgeshire.
Last month Cambridgeshire Fire and Rescue Service chief Graham Stagg returned to his former job and salary after retiring in September.
Assistant chief Neil Newberry has been offered the same deal.
The Fire Brigades Union (FBU) described it as a "double pay-pension pay-off".
The union's Cambridgeshire secretary, Cameron Matthews, said: "Cambridgeshire firefighters are livid with these revelations and the lack of accountability and transparency on show.
"While we're fighting tooth and nail to protect our pensions, jobs and public safety, the fire authority is awarding such astronomical funds to senior staff in Cambridgeshire."
Service 'discretion'
The fire service spokesman added: "As the public minute states, the Assistant Chief Fire Officer [Neil Newberry] has been offered re-engagement in accordance with the fire authority's policy.
"The decision is personal and remains a matter between the individual and the authority."
Mr Newberry had not yet made a decision about the offer, the spokesman said.
The deal will be the same as that offered to, and accepted by Mr Stagg, who was allowed to retire, claim his pension lump sum and return to work a few weeks later.
The Fire Brigades Union condemned the move and Fire Minister Brandon Lewis criticised it, as well as the high pay levels of staff and the transparency with which these decision were made.
Mr Lewis said it was "not clear" why Mr Stagg was the fifth highest-paid fire chief in England and Wales while running the 25th biggest service.
The fire authority said the move did not breach its pay policies but following the minister's remarks its chairman Sir Peter Brown said they would review pay policy and senior management structure.
The time scale for that review is not known but the authority's retirement policy states: "An employee may wish to retire from the service and be re-employed.
"This enables the employee to receive their pension lump sum on retirement (known as commutation) and then have their monthly pension payments suspended or reduced (known as abatement) until they retire permanently from the service.
"The service has the discretion to decide whether or not to re-engage an employee."