Remembrance: Cambridge University cadets attempt to march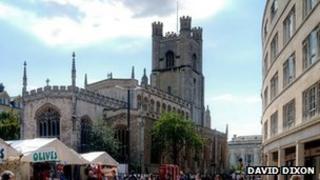 Members of Cambridge University's three officer cadet units are to march together on Remembrance Sunday for the first time despite having "no real drill training".
Lt Col Alex Macintosh, the training corps commander said the air squadron, army and naval units planned to "march as a formed body" through the city.
"We don't really do drill so marching might be a bit of an issue," he said.
"I'm not saying it's going to be Horseguards, but it's important to do".
He said it was the "first time in living memory" the three services had come together in this way.
"This day means a lot to us. It's very special and an important time to remember.
'Marching smartly'
"What is stark is that 2,470 undergraduates - not professional soldiers like me - who accepted the call to duty in World War One, were killed.
"Everyone has personal stories and personal memories," he said.
"In the old days, guns were fired on Parker's Piece and all sorts, but that all seemed to stop so we thought we would march [together] up King's Parade to the university church for the service at Great St Mary's.
"We major on the leadership development of these young undergraduates, so drill has not necessarily been at the forefront.
"But they will be there and they will be marching as smartly as they can," said Lt Col Macintosh.
The group will begin marching along King's Parade at 10:30 GMT.