Christmas Lego family building up to festivities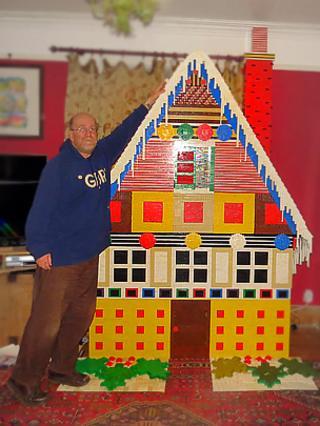 For the 20th year running a "Lego mad" Cambridgeshire family has taken their bricks out of storage and spent weeks creating a Christmas centrepiece.
When complete, Mike Addis and Catherine Weightman's 10ft-tall (3m) Lego gingerbread house will dominate the living room for the next two months.
In the past they have built a Dalek, Olympic mascot and replica churches.
The couple admit the "family hobby" is now "largely embarrassing" for their three children, but still fun for them.
Mr Addis and Ms Weightman, from Huntingdon, both enjoyed Lego as children and made their first Christmas model when eldest son Tom, now 21, was a baby.
'Lego habit'
Since then, their creations have become larger and more ambitious, and the embarrassment felt by their children has grown proportionally.
Tom, Mr Addis said, "finally feels able to talk about our Lego habit with his university friends".
However Holly, 18, "will have nothing at all to do with it".
"Christopher is 15, and still at home so sometimes has no choice but to join in," Mr Addis explained.
"If he misbehaves, four rows of Lego is the standard punishment."
The "Santa Claus Dalek" created in 2011 was the family's most popular model.
"It appeared in blogs all over the world - probably in places that didn't know what a Dalek was," Mr Addis said.
This year's gingerbread house - all 125,000 bricks of it - is a "nod" to Mr Addis's German heritage, he said.
Designed by Ms Weightman's father Neil, building started on 6 October and "lots of finishing touches" will be added over the next few weeks.
Although the couple swore never to buy any more Lego bricks, Ms Weightman agreed they could find more storage for the 1,200 new white ones needed for the house's snow-covered roof.
When there is no more room for added extras, the family will pose in front of the Lego house for their traditional Christmas card.
Mr Addis was unable to say how many of the children would feature in it this year.