Cambridge guide dog 'viciously' attacked by two dogs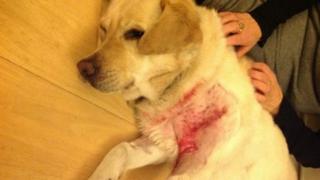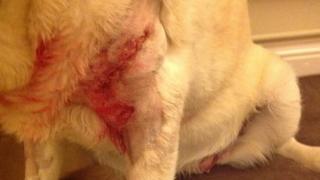 A guide dog required stitches after a "vicious and unprovoked" attack by two other dogs in a Cambridge street.
Neda, a yellow Labrador, was on a harness with her partially-sighted owner when the unleashed dogs attacked, wounding her shoulder and stomach.
Helen Sismore, from the Guide Dogs for the Blind Association, said Neda would not be able to work for a month.
"The owner is feeling very frightened and vulnerable, but we are supporting her and Neda," she added.
Cambridgeshire Police confirmed they were investigating an attack, on 13 November at about 16:45 GMT.
Eight-year-old Neda has been with her owner, who did not wish to be named, for more than six years.
'Vulnerable and isolated'
They were walking along a street when two dogs approached, "sniffing around" before attacking.
"I tried to hold one dog off, and Neda was trying to pull away from them, but she did not make a sound through the whole attack," she said.
The dog required stitches to wounds in four areas, including two deep muscular injuries, she added.
Ms Sismore said on average 10 guide dogs are attacked each month.
"These incidents have serious consequences for the physical and emotional wellbeing of the owner and the guide dog," she said.
"An attack can lead to a guide dog owner being left alone with an injured animal in need of assistance."
Neda's owner said the attack had left her feeling "completely vulnerable and isolated".
"I rely on Neda for so much both at home and work. I am usually a very independent person and I want people to realise the effect this sort of attack has on both the animal and its owner.
"I do not know yet if her confidence has been knocked as much as mine."