Peterborough's Jimmy the donkey WW1 hero honoured by children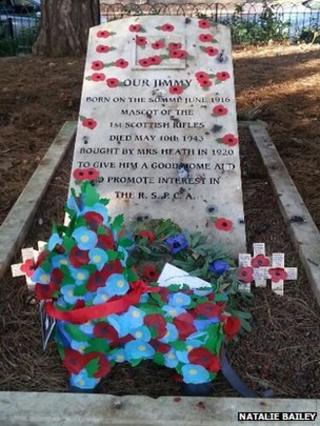 Children in Peterborough have paid tribute to a donkey hailed as a World War One hero at a remembrance ceremony.
Jimmy the donkey was born on The Somme in June 1916 and saw active service as the mascot of the 1st Scottish Rifles Regiment, ferrying injured soldiers.
He was later adopted by the RSPCA in Peterborough and a memorial erected to him in Central Park after his death.
Children from Southfields School made a "donkey" from poppies which they laid on his grave during Wednesday's event.
Natalie Bailey, who teaches the school's Year Three pupils, helped to set up an annual ceremony to remember Jimmy three years ago, with the city's Royal British Legion.
"One of their members came to speak about both world wars and mentioned Jimmy. The children were amazed," she said.
"They knew about soldiers fighting and dying, but they hadn't heard about the role animals took in the conflicts."
Blue poppy appeal
On active duty, Jimmy was wounded seven times. He was brought to the UK in 1919 and sold at auction in Peterborough to the secretary of the RSPCA, who grazed him on common land in the city and took him to fund-raising events.
When he died in 1943, aged 26, Jimmy was buried in Central Park and a memorial stone was laid on his grave.
On Wednesday, members of the legion held their annual ceremony at Jimmy's grave, after which the children laid their wreath.
"Two of the class made a donkey from cardboard and we decorated it with red and blue poppies," Mrs Bailey said.
The red ones are to remember those who died in the conflicts, and the blue represent animals who also played their part.
"There is a charity campaigning to have blue poppies recognised which lots of the children think is a good idea," she added.