Cambridge bus lane camera enforcement approved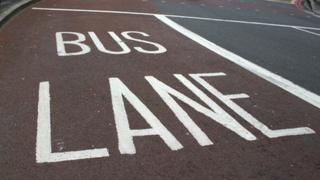 Bus lanes in Cambridge are to be monitored by cameras after a council survey found 150 drivers broke the rules every hour during peak times.
Cambridgeshire County Council's cabinet approved the plans for cameras to be introduced, with drivers fined £60 if they are caught using the lanes.
The fine is reduced to £30 if paid within a fortnight.
A council statement said careless drivers delayed buses and emergency services and put cyclists at risk.
The authority said some of the scheme would be paid for through a Department for Transport grant.
Money raised by the fines will be used to pay for the ongoing cost of the scheme or be invested in public transport or highway improvements, it added.
A review of signage and lines on bus lanes will be carried out before any enforcement takes place.
The cameras are expected to be operating from next summer.
A Transport for London study found that enforcement measures resulted in a 15% fall in delays to buses in the capital, the council said.