Santa sleigh breakdown rescued by AA in Cambridgeshire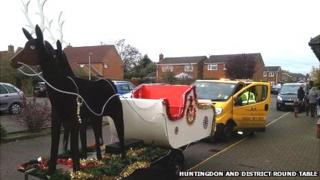 Father Christmas had to be rescued by the AA in Cambridgeshire after the vehicle towing his sleigh broke down.
Huntingdon Round Table's Santa Claus left Buckden Pre-School's Christmas Fair on Saturday but soon came a cropper due to a flat battery.
Fair organiser Vikki Brooks said: "Luckily Santa lives quite locally so he was able to walk home afterwards."
An AA spokesman said: "Hopefully Santa's sleigh will be a bit more reliable on the big day."
Mrs Brooks, who fund-raises for the village pre-school, said: "We're very lucky Santa didn't break down on the way, because we'd had a really big build-up and we told the children how lucky they were that he'd found time to come to our village and give out presents.
"The Round Table had to call out the AA when their car wouldn't start, but they really didn't want to because they were sure someone would think it was a joke if they said the sleigh had broken down."
The AA spokesman added: "Our patrols always aim to fix our members' vehicles at the roadside - including Santa.
"We're pleased we were able to get him on his way at such a busy time of year."
Mrs Brooks's five-year-old daughter was one of the few children who witnessed the stranded Santa after the fair had closed.
"She said 'The reindeer are magical, mummy, so why can't they move the sleigh?'," Mrs Brooks said.
"I told her they were only magical on Christmas Eve, which was a bit of quick thinking."
Mrs Brooks said Santa helped to raise more than £1,000 for the school.