Amina Agboola murder: Abdominal injuries led to death, inquest shows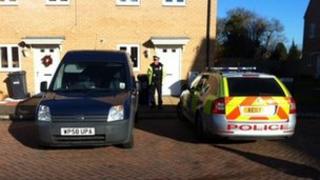 A two-year-old girl from Peterborough died from a ruptured liver and "blunt force trauma" to her abdomen, an inquest opening has heard.
Amina Agboola underwent emergency surgery in hospital after paramedics were called to her home in Scott Drive on 21 November.
Despite doctors' efforts she died later that day, the Huntingdon inquest heard.
Dean Harris, 19, of Scott Drive, Peterborough, has been charged with murder.
He is due before Cambridge Crown Court on 28 February.
A 28-year-old woman, believed to be the girl's mother, was also arrested and has been released on police bail.